Ms. Marina de Souza
Canadian Concrete Masonry Producers Association
1500 Avenue Road,
Toronto, Ontario M5M 3X0
October 19, 2014
Dear Marina and the members of the Canadian Concrete Masonry Producers Association,
Thank you so much for making Community of Hearts the recipient of the proceeds of your golf tournament. What a generous donation! As you know, Community of Hearts is a fee for service learning centre that provides adults with developmental disabilities options after high school to continue on the path toward independence and post-secondary opportunities. We are completely self-funded and have relied on the generosity of organizations such as you to provide for the little extras that are needed for the programmes to stay leading edge and innovative.
Our Cottage Crashers is a summer camp life-skills programme that provides young adults with a cottage experience but also the opportunity to meal plan, cook and put their life skill learning into practice for an extended time. The programme was created as a fundraiser for the learning centre and was actually established before the learning centre officially opened.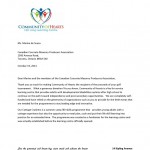 Download the letter from Community of Hearts – Life Long Learning Centre