What is balanced design?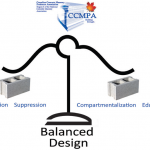 Balanced design combines 4 basic principles of good building construction:
Studies have shown that the best fire protection is provided through a four-part "balanced design" approach. Balanced design comprises:
Education — i.e. providing instruction on fire prevention, safety and rapid exits;
Detection — i.e. smoke and heat alarms and other active systems;
Suppression — i.e. sprinklers;
Containment — i.e. fire-resistant, non-combustible masonry walls that contain and prevent the spread of fire.
The CCMPA urges the Government of Ontario to incorporate all four elements in its revision of the Ontario Building and Fire Codes. Specifically, we want the Government to amend the Ontario Building Code to require that partitioning walls between units in residences for seniors, people with disabilities and other vulnerable Ontarians be constructed of concrete masonry. This requirement strongly complements the government's plan to require automatic sprinkler systems.
Structural collapse — a common occurrence when fire strikes newer buildings constructed with combustible building materials — can render sprinkler systems useless and poses enormous additional risk, not only for people trying to exit the building but for fire fighters entering it.
Additional factors
"The widespread use of lightweight construction and contents made from oil- based/synthetic materials throughout buildings today means that when they catch fire, they burn with more intensity than ever before," says Carl G. Pearson, Immediate Past President, Fire Fighters' Association of Ontario. "A material like concrete masonry as a partitioning wall can significantly slow the spread of the blaze and maintain structural integrity, both critical to helping save lives."
Commonly used drywall and wood frame currently receive acceptable "fire resistance" ratings in industry laboratory testing. However these materials burn quickly — much faster than the times suggested by laboratory testing — and are fully ablaze well before staff are able to move dozens or even hundreds of residents out of a nursing home.
"We need to be realistic about the time it takes for such residents, many using walkers or wheelchairs, to exit a burning building," says CCMPA President Paul Hargest. "Their chances of escape are considerably reduced in a structure built only with wood and drywall."
Concrete masonry, in comparison, remains standing and has proven to be an effective barrier in fires where half a structure has been razed and the other half — divided by a concrete block wall — has remained structurally intact.
How does concrete block support balanced design?
Concrete block is one of the most durable, fire-safe building products you can build with. Compared with materials like wood and gypsum drywall, which can go up in flames and collapse in minutes, concrete block does not burn. It remains structurally sound. (etc.)
Don't get burned. Build with concrete block.
Maximize your home's safety – and increase its value – by building with concrete block.
Watch the video
Downloads
Article: A Concrete Firewall Protected the Résidence du Havre Seniors' Home
Article: Better Fire Protection for Ontario Seniors.
Advertisement: Wood First? First to go – Calgary Herold.
Advertisement: Wood First? First to go – Edmonton Journal.
Advertisement: Wood First? First to go – Toronto Sun.
Advertisement: It all starts with a fascination for block.