Within hours, images of yesterday's full-scale testing of commercial strip mall-type structures hit the information superhighway. Photos and video from the showcased testing event feature a dramatic collapse of an unreinforced masonry wall subjected to hurricane force winds while the adjacent reinforced structure stands completely intact, validating one of our industry's core messages- the engineering technology reflected in modern building codes enables masonry structures to stand strong in severe events.
NCMA applauds the efforts of the Insurance Institute for Building and Home Safety (IBHS), which conducted the research at their impressive research facility in Richburg, SC, for highlighting the value that can be achieved with only minor additional initial investments in buildings and home construction. More resilient structures not only provide improved protection for inhabitants during an event, but also protect the investments of residents and business owners, enabling individuals, companies, and communities to rebound much more quickly following extreme events.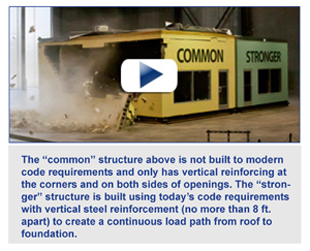 The National Concrete Masonry Association (NCMA) and the Masonry Association of Florida (MAF) collaborated closely with IBHS in designing structures that would highlight the differences in building performance for a mere $1,200 additional investment in masonry materials, reinforcement and labor. The "stronger" building features reinforced masonry walls and other detailing consistent with structures that are fully compliant with current building code requirements.
The "common" building reflects construction consistent with those buildings designed and constructed 30 years ago or more and still exists in service. The failure of the "common" building observed in this test is not unlike historically documented performance of some structures in the wake of high-wind disasters. However, the investment of the masonry industry and others over the last thirty years has resulted in codes and recommended practices that provide a profound ability to predict structural performance and to design structures accordingly to resist predicted loads.
NCMA supports an improved focus on the need for resilient construction. Studies have documented that investments in disaster mitigation are much less expensive than the investment to clean-up and restore services after disasters. Similarly, investments in research such as this program have the ability to support long-term improvements in building performance.
I encourage you to visit the IBHS site to see not only the results of this test, but also the construction details associated with the test, as well as the results of a similar test at the same facility of wood frame single family structures. NCMA technical staff are also available to provide you with more information about the tests and their outcomes.
Sincerely
Bob Thomas
President, NCMA
About The Insurance Institute for Building and Home Safety (IBHS)
The Insurance Institute for Building and Home Safety is an independent, nonprofit, scientific research and communications organization supported by the property insurance industry. The organization works to reduce the social and economic effects of natural disasters and other risks on residential and commercial property by conducting building science research and advocating improved construction, maintenance and preparedness practices.
About the National Concrete Masonry Association (NCMA)
The National Concrete Masonry Association (NCMA) is a not-for-profit organization whose mission is to support and advance the common interests of its members in the manufacture, marketing, research, and application of concrete masonry products. The Association is an industry leader in providing technical assistance, education, marketing, research and development, and product and system innovation to its members and to the industry.