2020 is History.
Despite a global pandemic, 2020 remained a strong year overall for block in Canada. Typically the business world uses the word "pivot" when we demonstrate the agility to react to changing conditions; however the unprecedented changes last year required a complete overhaul in how business is done. The survival and success that block saw in 2020 was largely due to industry working together to advocate for essential businesses, an unrelenting commitment to safety and continual repositioning in our approach to customer service.
To ensure we are providing the most membership value and support possible, CCMPA is also changing how we do business. One example of this is our shift from print to digital marketing to close out 2020. CCMPA ran a targeted social media campaign and managed to reach 1.6M screens in less than 3 months. We are working hard at keeping block top of mind in the design community, particularly amongst the hybrid / mixed material design space, such as passive house or net zero designed structures.
2021 - Glass half full?!
Overall, across Canada it looks like Q4 had a strong finish and is well positioned for spring, and 2021 has kicked off with a couple pieces of exciting news for CCMPA….the block family is growing!
We are excited to announce that Rainbow Concrete officially joined CCMPA in March, and Marcus Poirier is back on the block in his role of GM at Brampton Brick!
2021 has us focused on developing a few key tools to help you better insulate market share and promote block as a resilient, cost-effective, and green building material;
We are working with Athena Group to renew our industry wide EPD for block, which will include our majority utility of GUL/PLC (lower carbon cement) in production
Frank T. Came & Associates is completing a study which investigates the insurance costs in both pre/post construction structures (namely the cost of mass timber buildings vs. concrete).
Study Renewal: 2017/2021; Initial Cost of Construction in Multi-Residential Buildings by Walt G. M. Schneider (webinar will be made available upon release).

CCMPA is also running a Best on the Block photo contest, looking for submissions of completed / ongoing block projects near you! The contest will run from April 1st, 2021- July 1st, 2021 with the winner announced on July 15th 2021! Grand prize is a round of golf for 4 @ Eagles Nest GC in Vaughan https://www.eaglesnestgolf.com/
As our Executive Director, Andrea is working with the Board of Directors to drive our strategic plan forward with the momentum started in 2020. To hear updates on the 6 Pillars of Progress feel free to join in our quarterly Board and Member meetings (As a bonus, there's always a great key note speaker lined up!). Andrea also sits on the Masonry Works Board of Directors, NCMA State Executives, Women in Concrete, Young Professionals Group, and leads a task force in the Build for Life Concrete Strategy group. CCMPA is actively driving collaboration with our industry alliances to help ensure that concrete stays stronger together.
Overall, CCMPA is committed to managing our membership through the Covid-19 pandemic. As always, any and all feedback or suggestions are welcome and can be sent directly to info@CCMPA.ca with a committed response within 1-2 business days.
Keep safe, healthy and well,
Best,
Paul, Justin & Andrea

The world is changing.
Our marketing strategy needs to change with it.
Our Accelerated Digital World
News via screen rather than print
Especially for Millennials and younger (40-)
Work from Home World
Increasingly Cost-efficiency-focused corporate World
Maintaining print subscriptions more expensive than digital
More touch-conscious, earth conscious World
All of these trends should accelerate us to review our balance between leveraging the best of both Print & Digital when it comes to bringing our marketing messages to this new world.
CCMPA's strategic plan under the "Marketing & Communications" pillar:
Maximize return on CCMPA's marketing dollar on the 3 key priorities through well-planned and targeted efforts via a balance of print, physical, and digital media.
In October of 2020, CCMPA executed in alignment with strategy and kicked off its first Targeted Sponsored Ad campaign on social media.
Targeted sponsored ads allow you to pay to promote your advertising material on social media targeted directly to an audience which you define in the platform. Besides being aligned with our new 'digital world', this approach is also extremely cost-efficient compared to both traditional print and stills in online magazines. Additionally, it offers the valuable ability to target your messaging and track results.
CCMPA's campaign includes these elements:
3 months – 2 weeks each month – of the 5 #BLOCKITOUT ads.
Facebook, Twitter, LinkedIn
6 Target audiences: Environmental Experts, Politicians, Structural Engineers, Architects, Real Estate Developers, First Responders
Geography: Canada-wide
The results speak for themselves:
3746 new visitors to the CCMPA website
50,000+ views of #BlockItOut videos
50,000 times content resonated with targeted audiences inspiring them to Like/Comment/Share
1,600,000 times content crossed over targeted screens
When you break out the results by month – you see the effect of the fine-tuning work that went into the audience targeting between campaign months – with great improvement month over month through the program.
And back to that cost-effective piece?
These results cost $7300 in platform spend.
That's $7300 to run 10 ads 3 weeks each.
Comparable individual print ads run $5-$10k or more pending size & publication.
At the low end of $5k, 10 ads is setting you back $50k with no feedback loop to advise you whether your message is landing, let alone being seen.
The Covid pandemic has only served to accelerate social media audience growth, and experts aren't anticipating this wave receding post-pandemic.
Targeted Sponsored Ads have a cost-efficient, value-added place in CCMPA's marketing mix.
It might belong in your business' marketing tool belt as well – for employee recruitment, brand – culture communication, new product launch or promotion, and more. Our world is changing. To remain relevant – successful – profitable, we need to change with it.
For any questions about this campaign or Targeted Sponsored Social Media Ads, don't hesitate to contact Andrea Boddy Consulting at boddyandrea@gmail.com,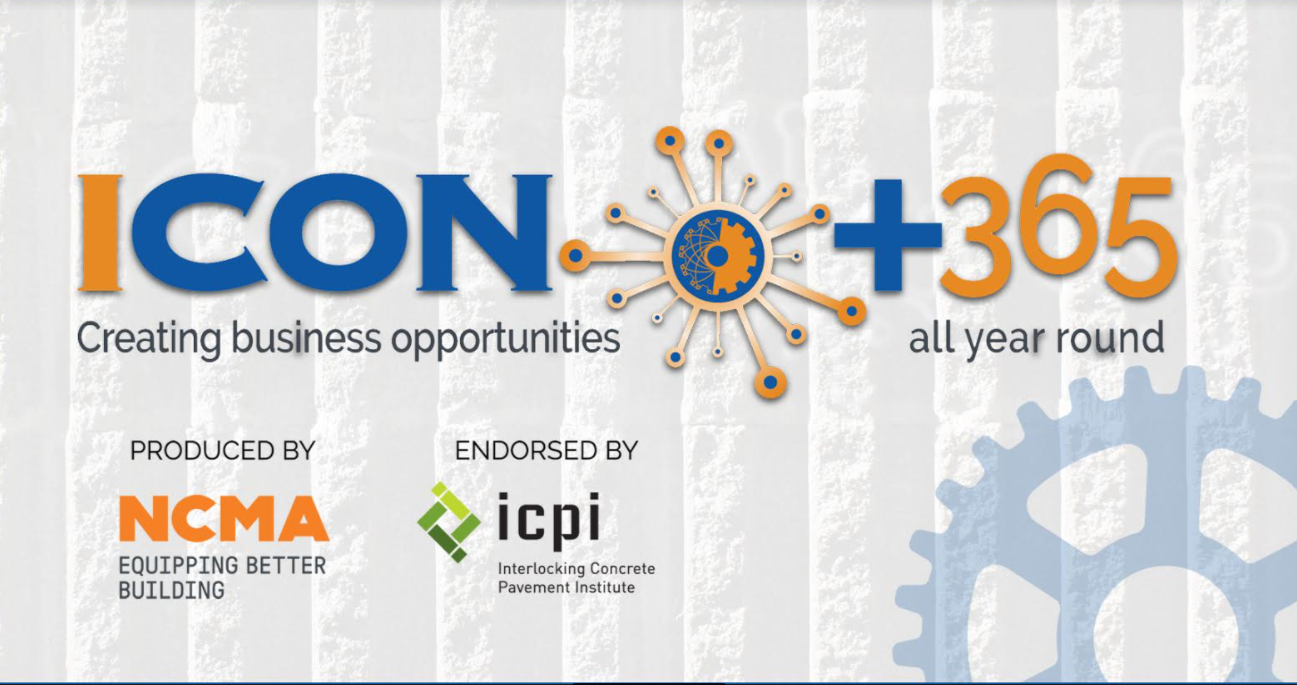 NCMA launches virtual ICON+365
With the objective to connect the manufactured concrete masonry and hardscape industry suppliers and producers, NCMA's ICON+365 came into action February 9-18.

More than 620 attendees and over 100 volunteers took part in the ICON+365 live sessions, which included a wide variety of education, networking and fun. The high level of engagement resulted in over 2,300 unique viewer experiences during the live event. The Basic and Advanced Boot Camps for Production Personnel, Knowledge Bar and Virtual Plants Tours offered attendees 28 ½ hours of education over the two weeks. Education roundtables and webinars will continue throughout the year.

Twenty-six supplier companies participated in the ICON+365 Marketplace, providing an opportunity for industry suppliers to build relationships with producers. The Marketplace will continue to grow throughout the year, keeping producers abreast of new developments from these participating companies.

All of the highlights can be viewed on the event platform throughout the year; however, registration is required. Click here to learn more about ICON+365 and to register.

Municipal Infrastructure Asset Management
Since the association's last report to CCMPA in the fall of 2020, The Masonry Works team has been busy advocating on behalf of the masonry industry at the municipal level across the province. During that time the Masonry Works government relations team has initiated eighty-five engagements across the province. This adds on to the total of over 1000 engagements across the province in 2020. The GR team is proud to report planning policy wins in the following municipalities;
· Brantford
· Midland
· Halton Hills
Furthermore, the Masonry Works GR team has influenced procurement and asset management policy in ten municipalities, with particularly strong language in Dufferin County, Oakville and Guelph.
Since January 1, 2021 Masonry Works has met with seven municipalities to discuss their procurement and asset management policies, wherein we discussed the advantages of masonry in a life cycle context. The combined total value of potential projects these municipalities have in the pipeline totals $1,392,800,000.
Masonry Works remains committed to ensuring that the industry is well represented across the province at the municipal level. As such, we will continue to work on behalf of all members and stakeholders in the province. We strongly encourage any member or stakeholder interested in the association's government relations campaigns to attend local meetings. This can be done by reaching out to Masonry Works staff to coordinate.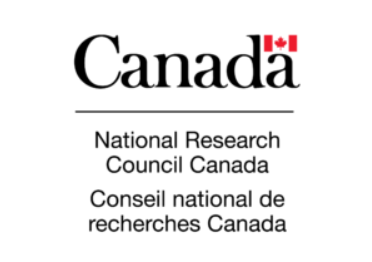 Wildland-Urban Interfaces:
The New Frontier in Building
Codes in Canada
Among hot topics today is climate change and the impact these changes and weather events are having on the built environment. One of the more significant such impacts has been an increase in wildfires, especially in the areas between buildings and the forests, commonly referred to as the wildland-urban interface (WUI).
To address this issue the National Research Council Canada and Infrastructure Canada launched a five-year initiative in 2018 called the Climate-Resilient Buildings and Core Public Infrastructure (CRB&CPI) Project[1]. The stated purpose of the project was to "integrate climate resiliency into building and infrastructure design, guides and codes" with initial emphasis on development of a National WUI Guide.
The development of the Guide was assigned to a Technical Committee on the Development of a Guide/Code for Wildland-Urban Interface Fires (TC-WUI). Their formative meeting was held in May of 2018 in Ottawa[2]. The TC-WUI recently completed their work and publication of the Guide should take place in the next few months. The National WUI Guide could eventually be integrated into the national building codes of Canada.
For the masonry industry the area of most interest in any wildfire guideline or code will be the requirements for the exterior walls of buildings to resist the effects wildfire events on the structure. Past experience shows the three predominant means that wildfires can impact buildings is the spread of fire by: (1) blowing embers; (2) convective heat; and (3) radiant heat igniting combustible materials on the exterior of the buildings. (See Figure).
CCMPA took an active part in monitoring development of the Guide by the TC-WUI, including participating on the working group assigned the formulation of the requirements related to the exterior of buildings and their resistance to ignition from wildfires. The final draft of the Guide does emphasize noncombustible and ignition resistant materials for the exteriors of buildings that are placed in wildland urban interface areas. Masonry, being a noncombustible material, provides an excellent exterior material that is resistant to all three forms of fire spread from wildfires. Thus, masonry can serve well the purpose of integrating climate resiliency into building design in this new frontier of codes.

Written by Steve Skalko
---
[2]
The TC-WUI held its sixth and last meeting March 3, 2021.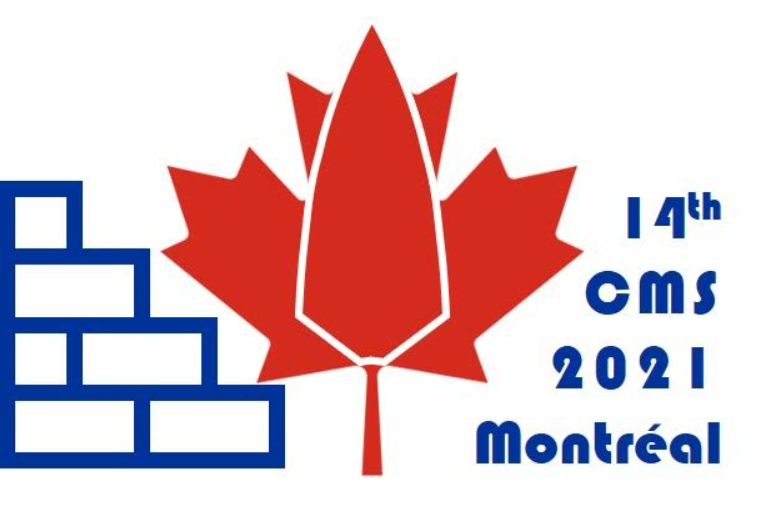 The Bennett Banting Buzz:
1. 14th Canadian Masonry Symposium
The 14th CMS has been moved to an entirely virtual format. The organizing committee in conjunction with the two lead sponsors, CCMPA and OMCA have decided that the conference will be made 100% free this year for registrants. We have selected an online platform to host the conference and are also planning to target designers by offering educational seminars as well. We will looking for individual sponsorships for technical sessions as well as for social events and keynotes. For additional information about the symposium feel free to email Bennett Bbanting@canadamasonrycentre.com

The 14th CMS will run from May 17-20

More information can be found at:
https://www.canadianmasonrysymposium.com/


2. Towards the Harmonization of Canadian and American Masonry Structures Design Standards
The final report detailing the findings on the CANUS research project (a partnership between CMDC, CCMPA, CSA and NCMA) has been published and is now available for download. This report will help guide the development of the next edition of the CSA S304 design standard. The CSA report is a culmination of a 2-year project with 14 Canadian and American designers and academics.
https://www.csagroup.org/article/research/towards-the-harmonization-of-canadian-and-american-masonry-structures-design-standards/


3. Masonry Structures Behaviour and Design Textbook
Early chapters of the 2nd Edition of the Masonry Structures Behaviour and Design Textbook has been made available in electronic format to undergraduate courses beginning September 2020. Four classes have integrated it into their online lecturing. Although the book remains in development, Chapters which are most related to undergraduate courses have been made available for educational purposes. The final hard copy version of the text will be made available by the end of 2021.


4. New Research Updates
A new 5-year research grant was approved starting Feb. 2021 with the University of British Columbia aiming to look at mid-rise and high-rise masonry design for high seismicity. Fire testing with Carleton University was completed late 2020. Although there have been ongoing delays in the past due to circumstances out of our control, we are happy to say that the program is back on track and tests are planned throughout the spring and summer. As restrictions begin to ease there are a number of test programs that should return to normal in 2021. We anticipate a pick-up in construction and testing activities across the country as research programs get back to normal.

Concrete Wins in Ontario
In Ontario over the past 14 months, nine industry associations have come together to identify common issues targeting six Ontario ministries. Throughout the past year, sub-groups have been meeting internally and with the identified Ministries to advance these common concerns. To date we have been successful establishing our presence with the Ontario government as a collective group and continue to push key topics including: investment in infrastructure, labour shortages, red tape and regulatory burden, insurability of drivers, and worker's compensation. Some key 'wins' include being invited to sit on the Chair's Advisory Committee for Construction at the WSIB and progress on reducing red tape and regulatory burden at the Ministry of the Environment that will facilitate the use of low-carbon fuels at cement plants. As a group we continue to build key relationships with senior political and Ministry staff throughout the government and advance our common goals. This year will include an election readiness component to advance the interests of cement and concrete with all political parties as we approach the provincial election in June 2022.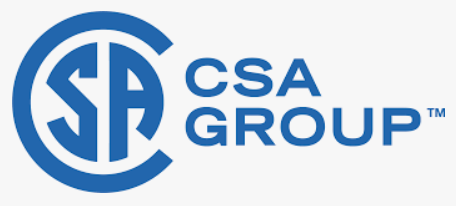 2020…A Very Tough Year to Build the 2020 Codes
Gary Sturgeon
Technical Services Engineer, CCMPA

It has been a very tough year for everyone involved in the Canadian Code development system. Processing the proposed changes to the 2020 codes has been severely hampered by Covid restrictions and further by the technical complexity of the changes and the unprecedented number of comments received during the Public Reviews of 2019/2020. But after "enduring" a seemingly exhaustive number of virtual meetings held over the past year, most but not all the proposed changes have been fully resolved. The 2020 Code editions will likely be published in December, 2021, with Provincial Codes published within one to two years thereafter. In May, work is expected to commence for the 2025 code cycle.

Let's take a very brief look at some of the more substantive changes directly affecting masonry under the National Building Code (NBC) [Part 5 and Part 9] and the National Energy Code for Buildings. These changes will appear in the 2020 edition of the codes.
NBC Part 5, Environmental Separation
For several code cycles, the Part 5 Standing Committee has sought to embed explicit durability requirements for materials, components and assemblies forming the building's environmental separator. Required service life would be stated in years. Two recent developments have facilitated the needed first steps.
NBC Part 9, Housing and Small Buildings
A proposal to change the manufacture of corrugated strip ties was accepted in its entirety for inclusion in the 2020 NBC. It consists of three principal changes:
pre-bend the tie before galvanizing to ensure that the distance between the fastener hole and the bend is not more than 6 mm, thereby eliminating site bending and ensuring structural sufficiency;
apply the zinc coating after fabrication of the tie to ensure lasting corrosion protection; and,
increase zinc coating thickness from 305 grams/m2 to 460 grams/m2 to increase tie service life.
National Energy Code for Buildings (NECB)
The NECB is moving to net zero buildings by 2030. Changes to the Energy Code are progressively more onerous with each subsequent edition.
Written by Gary Sturgeon

Andrea McChesney, HBA, MA
Executive Director, CCMPA